Carr Sur
Web & Backend Development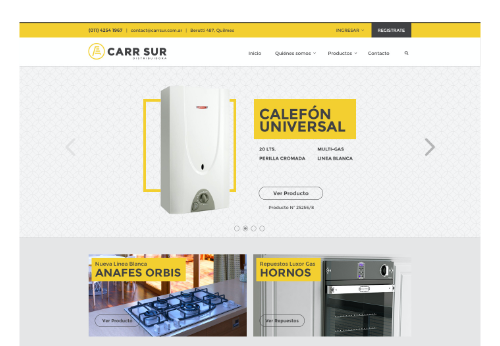 The challenge
Carr Sur is a leading wholesale company in the advice, sale and distribution of spare parts for gas-powered appliances. A family business with 30 years of history, which started its activities as a retailer and evolved to position itself as one of the most important wholesalers in the business. In continuation of this evolution, it seeks to achieve greater agility in the commercialization of its spare parts, allowing its customers to make price inquiries without the need to make a phone call, in addition to ordering online.
The challenges were:
How to publish this information privately (clients only)?
How to avoid the double load of data and be able to take it from their current legacy system?
How to show the new evolution of Carr Sur through branding without losing the identity?
How to make the cultural change in the longest-lived clients?



177,787
Quantity of products sold only by web

$9,478,124

+350
Active and valid monthly users

+11,5 %
Monthly growth
on website visits